How do end customers say about Hireyele Lever-Nuts Wire Connectors
We ( HIREYELE ) professionally focus on wire connectors since 2008. We have sold a big quantities to the world market, such as Russian, Brazil, Chil,Canada, United States,France, UK, Poland etc. HIREYELE Lever Nuts Compact Wire Connector have approved ETL, CE, ROHS certification. Well, today, we are be here to share you with more details about our popular type HR221 series, which also replace original 221 WAGO Lever Push Wire Connectors.
● 221 Series connecting clamps up to 4 mm²
● Connect without the need for tools.
● Ideal connection terminal between "solid" and "flexible" wires.
● Color: Blue Levers / Transparent Body ( Orange Levers / Transparent Body )
● Wire diameter: 0.14 - 4 mm².
● Connection clamp standard version.
● Maximum continuous operating temperature 105°C.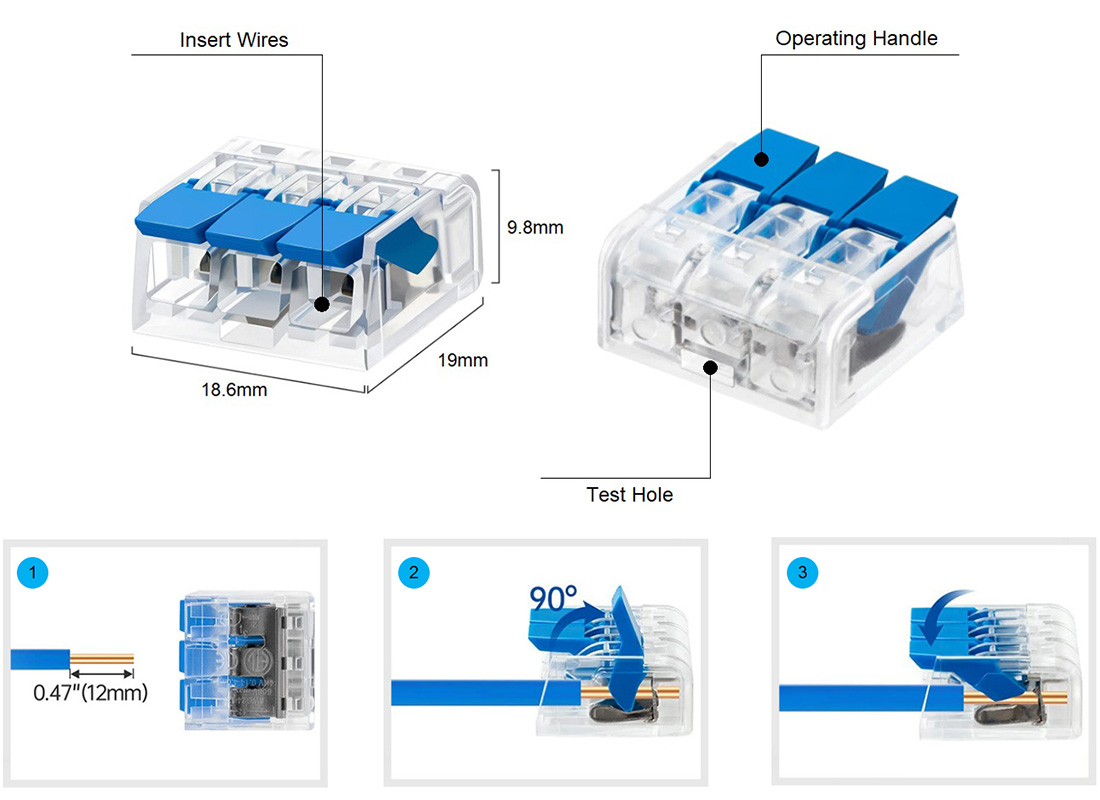 We would like to provide you some our end buyers ,how they think of our Lever Quick Splicing Wire Connector?

1) From UK Buyer-Mr. David Mellor:
These really are extremely simple to use.
Each block is a single way with a number of different poles. So to connect together two 2-core plus earth wires you need three blocks that are 2 pole... and so on. You can easily connect together multiple cables and complicated arrangements, although a little more thought is required compared to using a neatly arranged junction box.
In this case it's a two pole which of course allows you to connect two wires together.
There is a dent on the back which you use to measure how far the cable is inserted in to the device so you can easily measure how much insulation needs stripping.
You pull the little levers back all the way to 90 degrees and then insert the stripped cables. Push the little lever all the way back to home position are you are done. Very quick, very easy. Most importantly the connection is consistent and solid. It's can't come undone unlike a screw terminal nor is it over-tight and damaging the cable. They can also be removed in an instant and changed about.
2) From Brazil Buyer Mr.Giovanni Magliano :
I found these terminals very practical for wiring the motor control circuits of an electric gate into 4-pair cables.The "flag" labels are also much more visible in this way aligned than when the threads are grouped on a domino!
Where domino screws would crush or cut those thin wires, these terminals tighten them tightly.
Unlike quick couplings by "clamps", which are almost unmountable, they are easily reopened.
Before inserting the wire or releasing it, it is necessary to raise (do not hesitate to force!) the lever almost perpendicular to the terminal.
If necessary, wires of very different diameters can be mixed on the same connection.
In terms of security, we also do not have the risk of these bits of copper that we sometimes see overflowing from a domino!
I often anticipate the "above" model (the 3 or 5 input terminal instead of the 2 or 3 terminal).
So I keep a free input for a multimeter or power tip.
The probe (often the two probes...) stand by itself and I have both hands free!
It's fast and convenient: really great for testing small home automation equipment, like modeling gate openings!

———————————

Well, we sincerely welcome to all customers (distributors,buyer agents, retailers, wholesalers, importers, end buyers) for any quantities order here.